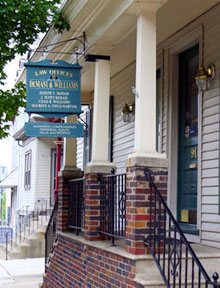 When You Need Experienced Local Attorneys
Contact DeMasi and Williams Law Office
For more than six decades, the law office of DeMasi & Williams has been a trusted resource for the community of Phillipsburg, New Jersey and its surrounding areas. Our experienced attorneys are licensed to practice law in both New Jersey and Pennsylvania and offer a wide variety of legal services to our clients.
Our clients range from individuals, to families, to businesses. The attorneys at DeMasi & Williams work closely with clients and will handle your legal matter with confidence and in the most effective and cost-efficient way possible. The professional office support staff is friendly, polite, and eager to assist you in any way they can. Upon contacting our office, you will never receive an automated message or be transferred to a voicemail. Instead, you will speak with either with the person directly handling your case, or an available attorney.
Please don't hesitate to contact our office for a free case review. We will do our best to assist you and promptly respond to your inquiries.
Our Areas of Practice Include
Serving the People of New Jersey and Pennsylvania since 1949!
Contact US